The Black Country's Favourite Meeting Venue
As one of the Black Country's most popular meeting venues, we make it easy to host a successful event.
Benefit from our competitive rates, 'warm and welcoming' staff, and seamless booking process. With rooms described as 'light and airy,' free car parking, award-winning catering and unlimited tea and coffee – it's easy to see why local businesses use us time and time again.
Special Offers
Great discounts on on all room hire, Please enquire! Personal
Our friendly, tailored service ensures planning is easy, your event runs smoothly and your guests are impressed. Convenient
Located just 200 yards from J1 of the M5, we're perfectly positioned to welcome your visitors from the Midlands and beyond.
Make your event a success
If you're on the hunt for the perfect venue and a stress-free planning experience, an impersonal hotel isn't the way to go. We're a local Black Country business committed to helping other local businesses succeed – with friendly service and competitive rates, including special discounts for CBM members and NMC tenants.
With 8 meeting rooms to choose from, it's easy to find exactly the right fit for your needs. We act as an extension of your business, wowing your clients and providing colleagues with a productive space to come together.
We're particularly proud of our reputation for delicious catering and refreshments – including unlimited tea and coffee – and our personal service, which is regularly described as 'first class' and 'warm and welcoming.' Download our catering and refreshments menu.
Whether you're planning a conference, a team building day or a confidential meeting, our range of fully managed packages will ensure that every aspect of your event runs to plan.
"Thank you for your wonderful hospitality. The venue was excellent and the organisation and help were very good. I would have no hesitation in recommending your venue to other organisations, and would certainly use your facilities again in the future."
Sandwell and West Birmingham CCG
""The reception we get from the staff is always warm and welcoming and they always do everything they can to help."Martin C Calder

Babcock International
"We have used the NMC venue for staff engagement and team development events. The environment is very conducive to learning with the rooms being light and airy. The staff are very helpful. All in all it was a positive experience, thank you."
Midlands and Lancashire CSU
"We booked NMC venue for a team meeting, the customer service was second to none, making the booking process simple and transparent, we were well looked after on the day and our company directors were very impressed with the venue and the hospitality, I would fully recommend using this facility for any further meetings"
Karen Scot - Young Research
"As an external trainer I encounter a variety of different training environments. This was one of the best ...
Superb venue - roomy, quiet, comfortable
Responsive & sociable staff - nothing was too much trouble.
Plenty of car parking and unlimited drinks
Looking forward to return visits & deserves to be widely used & acclaimed"


Martin C Calder

Director, Calder Training & Consultancy Limited
"We held an event on Tuesday at the NMC and yet again the service we received was exemplary – to call out several things, sufficient parking on site or across the road, warm, professional welcome, room – right size, all projection facilities provided – bright and well set out, all day availability of hot and cold drinks, good food. This is my favourite off site venue we utilise for our staff"
Amanda – NHS Manager
"I would like to say a huge thank you to Marie and the team NMC, they were friendly, helpful and supportive throughout our annual 2 day event. After 2 years of Covid restrictions, it was good to get back to meeting people at a venue but equally we were able to simultaneously 'live stream' our event online so we really did have the best of both worlds. The Food and refreshments provided were delicious too so all in all it's a great venue!"
Maxima Engineering Ltd
Perfect for smaller gatherings
If you need a contained environment for training days, breakout sessions, small presentations or one-to-one meetings, we have the ideal solution.
For highly confidential meetings, we can ensure that the room is soundproof and free of interruptions. At the other end of the scale, if you're looking for a vibrant and inspiring setting for brainstorming or team building exercises, we'll create exactly that especially for you.
By booking a space at NMC Venue, you'll receive attention to detail, friendly and efficient service, an experienced hospitality team and outstanding business support options, all at a very competitive rate.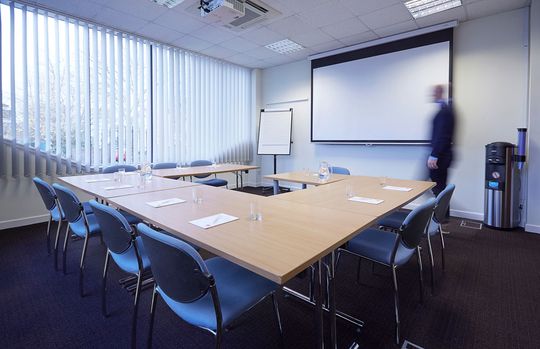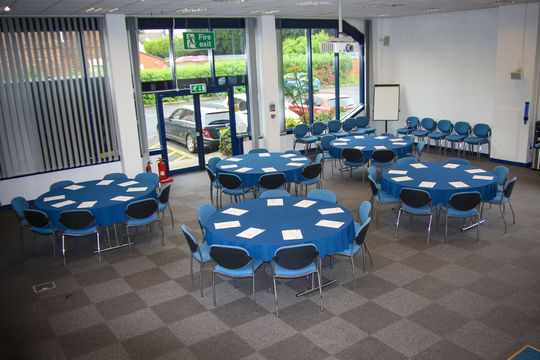 We supply the tools for success
Whether it's a huge event receiving national press coverage or a day spent interviewing promising candidates, each room comes with a host of amenities and options to make everything run like clockwork from beginning to end.

Customers appreciate our attention to detail and attractive location, as well as powerful air conditioning, complimentary Wi-Fi, disabled access and free parking.
You can also take advantage of our first-class catering and delicious refreshments, integrated projection and audio facilities, roaming wireless microphones, plus a team of event specialists dedicated to a fully customised service.
As well as operating Monday to Friday, if you require an event to be run early in the morning, late at night or over the weekend, we're ready to accommodate you.
Plan your event with NMC Venue
We're always here to provide additional information and offer a tour around our facilities.
To make an enquiry or book a room, please call
01216016350 or use our contact form.
Find us at:
NMC Venue,

47 Birmingham Road,
West Bromwich,
B70 6PY